The English Curriculum Intent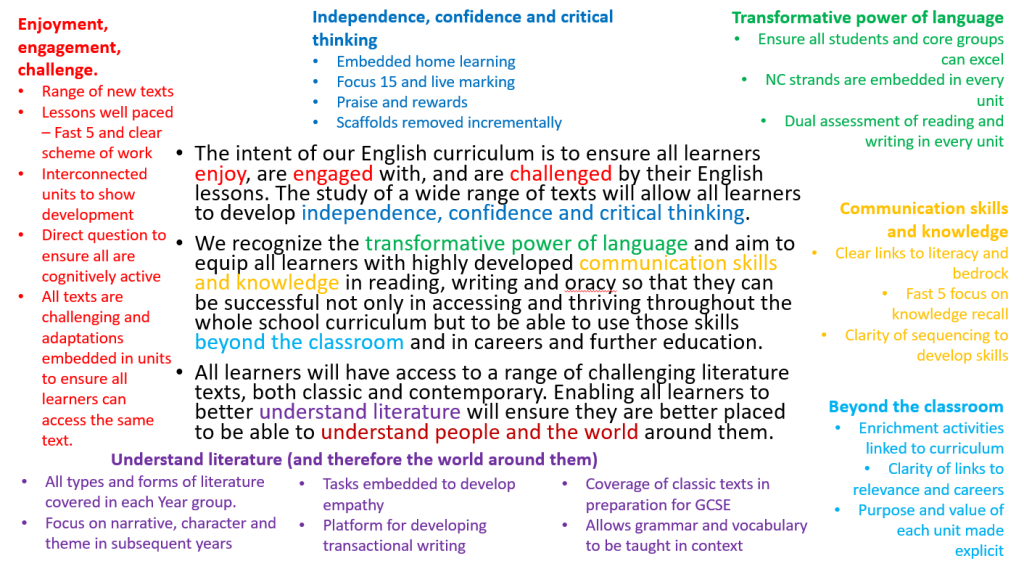 Key Stage 3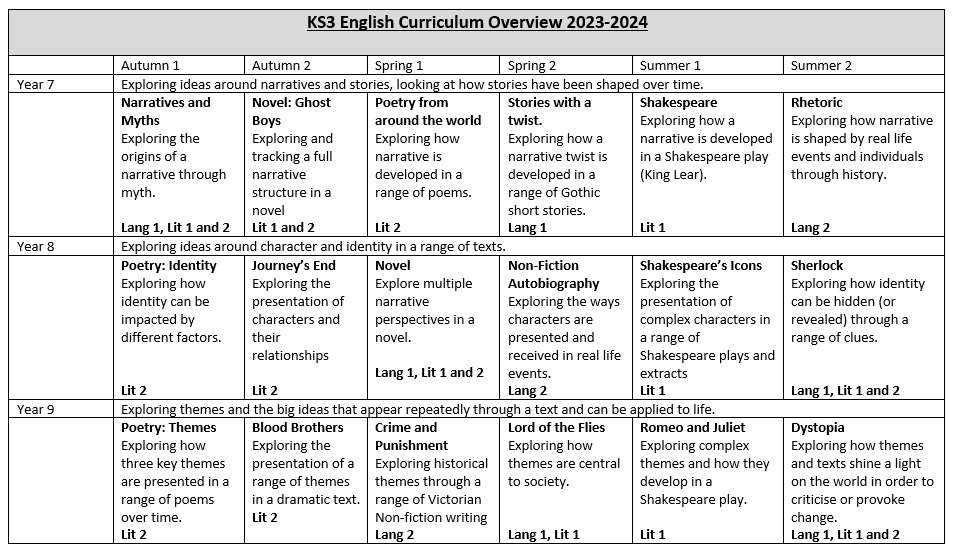 Key Stage 4
Year 10 & 11
In Years 10 and 11 students study towards two GCSEs: English Language and English Literature.
By the end of Year 10 students have studied their set texts for Literature, and Year 11 is used to revise and consolidate / extend understanding. The examination board is AQA.
English Language GCSE
An English Language GCSE equips students with essential communication skills, preparing them for continued education, training and future employment. This qualification allows students to develop skills in analysing language and writing skills for imaginative and practical tasks, as well as speaking and listening skills. As a linear GCSE, the course is assessed through 100% final examinations in Year 11.
Paper 1: Explorations in Creative Reading and Writing (50%): Response to unseen extract from a twentieth or twenty-first century novel or short story. Write your own short story or description. Exam: 1 hour 45 mins
Paper 2: Writers' Viewpoints and Perspectives (50%): Response to two unseen nineteenth / twentieth century non-fiction texts e.g. leaflet & article. Write your own transactional text e.g. letter or article. Exam: 1 hour 45 mins
English Literature GCSE
An English Literature GCSE allows students to explore our vast literary heritage, studying a range of texts, including drama, poetry, prose and texts from other cultures. The main skills learnt are analytical reading skills. We aim to develop students with enquiring minds, who can apply their skills to literary texts and to the world around them. As a linear GCSE the course is assessed through 100% final examinations in Year 11. The exams are 'closed book' (i.e. no texts are allowed in the examination).
Paper 1: Shakespeare & the 19th-century novel (50%): Response to a question on an extract as well as the rest of the Shakespeare set text. Response to a question on an extract as well as the rest of the 19th Century set text. Exam: 1 hour 45 mins
At Victory, all students study the play Macbeth and the novella Jekyll & Hyde.
Paper 2: Modern Texts and Poetry (50%) : Response to an essay question on the set twentieth century prose or drama text. Essay question comparing two poems from the anthology. Response to an unseen poem. Exam: 2 hours 15 mins
At OVA all students study the Power & Conflict cluster of poems from the AQA anthology.
Key Stage 5
English Literature
A Level English Literature
Exam Board Edexcel
A Level English Literature includes the study of drama, poetry and prose, including texts from 1800 to the modern-day. Through this course students develop the skills to think critically and analytically about literature and the world around them. Although the focus for formal assessments will always be on analysis of literature students are still given opportunities in lesson time to develop a range of wider skills including debating, presenting and creative writing. Students are actively encouraged to pursue their own literary interests and read widely throughout the course.
All exams are open book.
Current course outline:
Paper 1 Drama 30%
Section A) Hamlet by William Shakespeare
Section B) A Streetcar Named Desire by Tennessee Williams
Paper 2: Prose 20%
One comparative essay on the following texts:
Dracula by Bram Stoker
&
Beloved by Toni Morrison
Paper 3: Poetry 30%
Section A) 21st Century poetry.
Comparison of one studied poem from the anthology Poems of the Decade with an unseen poem.
Section B) Study of a named poet or movement: John Keats
Non-examined assessment: Comparative Essay 20%
Students are given the opportunity and freedom to explore their own literary interests through the study of one core text and then a free choice of a second text to compare it to.
For more information, please see the A Level Literature Student Handbook.