Curriculum Intent
Our aim is to connect our students with the amazing variety of history around them, at international, national and local levels. During their time at OVA, they will build valuable knowledge that will help them understand and interpret the world around them during their life.
Connecting Young People to the Past – We want our students to become curious, to develop opinions and values based on a respect for evidence, and to build a deeper understanding of the present by engaging with and questioning the past.
Historical Enquiry – We belief that the following features should underpin the learning of history in schools: building knowledge; pursuing historical enquiries; engaging with evidence and interpretations; communicating in rigorous and creative ways through varied historical enquiries.
Diversity – Our students should study a range of periods in history; civilisations and cultures beyond Europe; local and family history; social and cultural history, reflecting the continuing social, cultural and ethnic diversity of Britain.
History Around Us – Engaging with 'history around us', and considering what the historic environment can tell us about people's lives and beliefs in the past, are some of the most stimulating aspects of learning history.
Key Stage 3
In Key Stage 3 we follow the National Curriculum for History. Students will study a mixture of chronological and thematic studies, exploring how Britain and the World developed over the past 1000 years. Students will study history 3 times a fortnight.
The course that students will follow is outline in our curriculum roadmap shown below: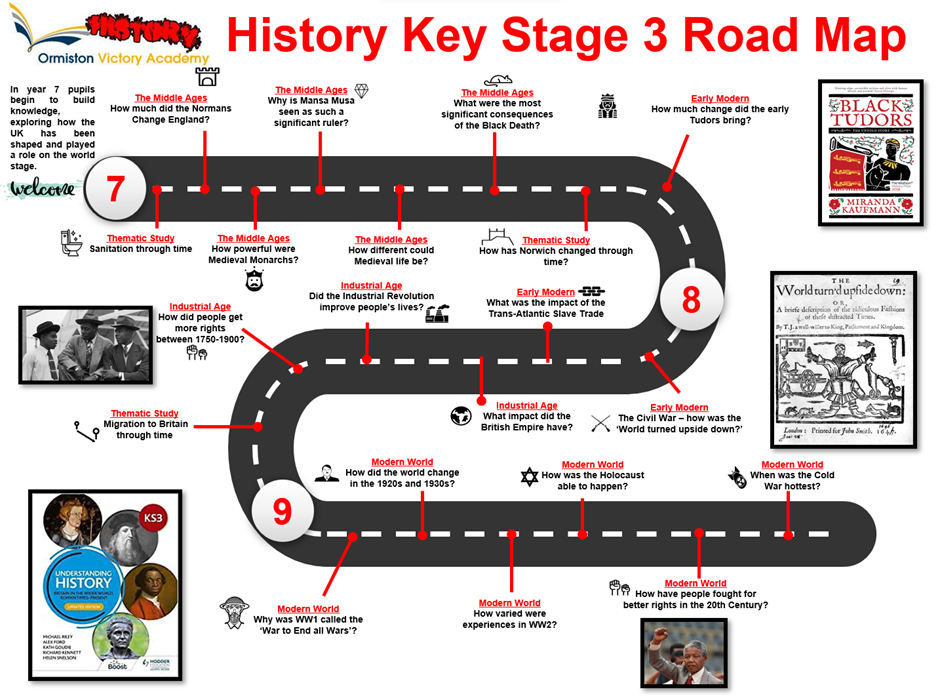 Key Stage 4
Course Introduction
History enables students to make sense of the world around them by learning about events, important people and societies from the past.
In History, students will become detectives and use evidence to draw conclusions about different eras and time periods.
Not only will students learn about the past they will also look at how it has influenced today's society and learn about the present day.
History also enables students to develop their written and verbal communication skills which can lead to many careers.
At Ormiston Victory Academy, we follow the Edexcel specification, studying the following units, which are all assessed in a written examination:
Crime and punishment in Britain, c1000–present and Whitechapel, c1870–c1900: crime, policing and the inner city.
30% of the qualification
Henry VIII and his ministers, 1509–40 20% of the qualification
The American West, c1835–c1895 20% of the qualification
Weimar and Nazi Germany, 1918–39 30% of the qualification
Key Stage 5
Students will follow the AQA specification at A-Level, focussing on the following units:
The Tudors: England, 1485–1603 – 40% of qualification, assessed in written examination
This option allows students to study in breadth issues of change, continuity, cause and consequence in this period through the following key questions:
How effectively did the Tudors restore and develop the powers of the monarchy?
In what ways and how effectively was England governed during this period?
How did relations with foreign powers change and how was the succession secured?
How did English society and economy change and with what effects?
How far did intellectual and religious ideas change and develop and with what effects?
How important was the role of key individuals and groups and how were they affected by developments?
Revolution and dictatorship: Russia, 1917–1953 – 40% of qualification, assessed in written examination
This option provides for the study in depth of the coming and practice of communism in Russia. It explores concepts such as Marxism, communism, Leninism, and Stalinism, ideological control and dictatorship. It also enables students to consider issues of political authority, the power of individuals and the inter-relationship of governmental and economic and social change.
Historical investigation (non-exam assessment) – 20% of qualification, assessed through centre assessed component
The purpose of the Historical Investigation is to enable students to develop the skills, knowledge and historical understanding acquired through the study of the examined components of the specification. Through undertaking the Historical Investigation students will develop an enhanced understanding of the nature and purpose of history as a discipline and how historians work.
The Historical Investigation contributes towards meeting the aims and objectives of the A-level specification. In particular it encourages students to:
ask relevant and significant questions about the past and undertake research
develop as independent learners and critical and reflective thinkers
acquire an understanding of the nature of historical study
organise and communicate their knowledge and understanding in a piece of sustained writing
Careers and Progression
Students who study GCSE history can progress on to study it further at both A Level and degree standard. Those who study a history degree should be practised in applying lessons of the past to help resolve problems of the present, and have the ability to apply an analytical mind set to all kinds of situations and challenges. These problem-solving and analytical skills are relevant in just about any industry which has a focus on current societies and future developments, particularly in the fields of business, politics and academia. For this reason history is a highly sought after degree for those wishing to attend university in a range of subjects. There is no typical career for history graduates with some working in careers ranging from law and accounting to teaching or working in museums.
Progression Pathways
Curriculum Overview